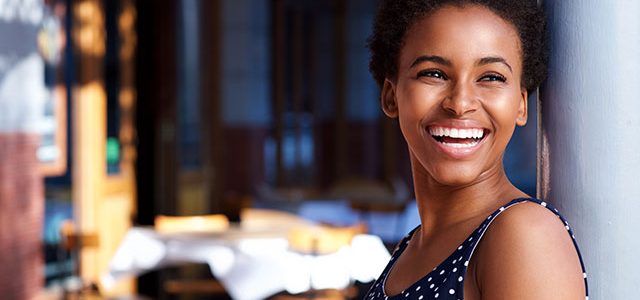 Modern dentistry has brought with it some fantastic developments in adult orthodontics
At Dental Pearls we are passionate about providing the very highest standards of dental care to Brisbane patients of all ages and this includes our range of adult orthodontics. More and more patients are opting for orthodontic treatment in adulthood. Whether it's to correct a long-standing issue or simply to achieve the straight smile that you have always wanted, adult orthodontics can help you achieve your desired results effectively and discreetly.
The general aim of orthodontics is to straighten our teeth over time, but often, we overlook the foundations of our smile in order to achieve this. What you need to consider is the fact that your teeth's destiny is controlled by the way your jaw develops and if it hasn't done so to its full genetic potential there will never be enough space for all of your teeth. As much as we would love to be able to rely solely on our genetic template to give us our ideal adult form, we are also subject to other factors when we're growing up and these environmental changes can shape our development into something quite different.
Adult orthodontic treatments seek to correct issues over time, so your final result is as close to your original genetic template as possible. Adult orthodontics can correct a range of concerns from straightening your smile to effectively treating the symptoms of sleep apnoea.
Invisalign Treatment from Dental Pearls
The continued progress of dentistry technologies has meant that there have been some brilliant advancements in adult orthodontics. One of the best innovations has been Invisalign. Invisalign is an orthodontic treatment option that offers patients a discreet and effective alternative to traditional metal braces. Using a series of custom-made removable aligners, Invisalign is one of the most sought-after adult orthodontic treatments on the market due to the fact that they are virtually invisible to the naked eye.
The aligners can also be removed when you're eating, brushing your teeth or playing sport and also require less trips to the dentist. Invisalign will gradually work to straighten your teeth by shifting them into their desired position over time. Every time you insert a new aligner you're one step closer to the straight smile you've always wanted. You will be given three or four sets of aligners each time and wear them for approximately two weeks before changing them over at home. As an adult orthodontic treatment, Invisalign offers most of the perks of traditional solutions with great efficacy and more discretion.
Using innovative SmartForce and SmartTrack technologies we can straighten your teeth more predictably and with added comfort. After you've completed your Invisalign treatment, we may recommend that you continue to use retainers or clear aligners to ensure that there is no further movement of your teeth. At Dental Pearls we are thrilled to be able to offer Invisalign as part of a range of adult orthodontic treatments and highly recommend it to patients that are looking for a more discreet way to straighten their smile.
ClearCorrect Aligners
For those of us who have had to wait until later in life to get straighter teeth, ClearCorrect is a perfect treatment solution. As an alternative to metal braces, ClearCorrect offers more comfort and is incredibly discreet. You may experience some mild discomfort at first as your teeth begin to shift into their desired position but after this period it should be smooth sailing.
Whether you have never received orthodontic treatment or have had your initial treatment not go according to plan, you will be pleased to hear that ClearCorrect is capable of correcting these concerns as well. You can even remove them when you're eating or drinking which makes cleaning your teeth between uses simple and hassle-free.
ClearCorrect is the revolutionary clear alignment treatment that requires no braces or wires of any kind. Many of us forego metal braces because of the unwanted attention it draws and the discomfort that comes with the fitting of these braces, but ClearCorrect nips that problem in the bud. Simple, comfortable and effective, ClearCorrect uses a series of custom-made clear aligners that adjust the positioning of your teeth until you achieve the smile that you've always wanted.
If you want any more information on our range of adult orthodontic treatments or to make an appointment, please click here.
Don't forget to share this via Twitter, Google+, Pinterest and LinkedIn.