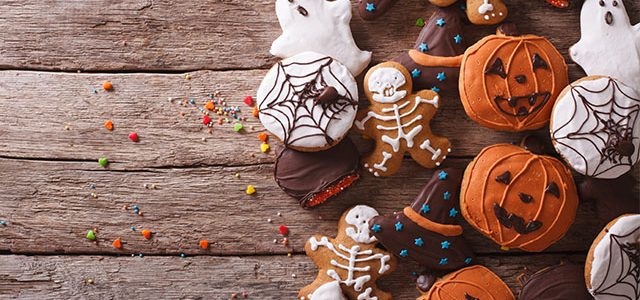 Spare you and your family's teeth the sugary trauma of Halloween this year with these scarily healthy alternatives from Dental Pearls in Brisbane
Halloween is a great time of the year but not so much for our teeth, which is why Dental Pearls Brisbane has compiled a list of delicious and healthy alternatives to the usual fare. At Dental Pearls, we offer a vast range of preventive, restorative and cosmetic procedures to help you maintain the health of your teeth and improve the overall appearance of your smile and this includes any advice that can offer with regards to diet. So, let's have a look at some scarily yummy Halloween options that offer a more healthy take on the usual sugar-laden options.
Ignore Halloween Completely
Now we know that Halloween isn't for everyone and if you are one of those people who would rather close the blinds and continue your life much as you have done for any other October day then you are well within your rights to do so. This also means that you have arguably chosen the healthiest Halloween dietary habits and so the rest of this list will probably mean less to you than the scarily tasty morsels it includes.
Muffin-Tin Pumpkin and Pear Stratas
At the top of the list, we have these wonderfully sweet casserole portions of festive delight that combine pears, pumpkins and cranberries to create a beautifully balanced array of flavours that provide your family with all the good stuff. You can use either Bosc or Anjou pears as well if needs be so long as they are ripe. Use your bare hands for the best results when mixing the bread into the egg.
Chicken and Garlic Vampire Dip
With the changing of the seasons you can chase away the symptoms of creeping illnesses with a creamy, cheesy and garlicky chicken dip packed with flavours and healthy goodness. Using either a slow cooker or a stove the whole garlic cloves that you will be using will soften significantly and imbue a delicious, rounded aroma. To be used with some crisp veggies or anything fresh and healthy, it's a dip that pairs beautifully with anything that's a bit sweeter and if you don't finish it you can always dilute it slightly and pour it over some pasta the next night.
Honey Cider-Beer Cocktails
Create an entire batch of this syrupy cider-honey based beverage for the Halloween festivities without the frankly ridiculous sugar content of other stronger potions and brews that tend to slide down a little too easily at times. Beer and cider offer a refreshing take on other Halloween cocktails and are a fantastic addition to any spooky get-together.
Glazed Pumpkin Sugar Cookies
Staying on theme and staying away from the temptation of using food colouring, rather give them a spooky Halloween feel in other ways. By using a top layer of black sesame seeds, you can create a horde of bats and spiders with a really nice texture. Prefer ghosts? Simply pour a thin layer of glaze and sue the black sesame seeds for eyes. The pureed pumpkin brings an awesome golden hue to the dough as well as a fantastic richness.
Chocolate Peanut Butter Apple Wedges
This a slightly more complex take on the famous candied apple of days yonder and involves cutting apples into snack-sized wedges and then drizzled with all the tasty extras. By adding peanut butter powder, you can add an intense peanut butter flavour to the choc drizzle and even as part of a breading for a baked chicken or fish dish. Need an energy kick? Use it in a smoothie or a protein shake for a delicious start to the day.
For more traditional dental advice, or to make an appointment after you have munched on all these delicious treats, please click here.
Don't forget to share this via Twitter, Google+, Pinterest and LinkedIn.