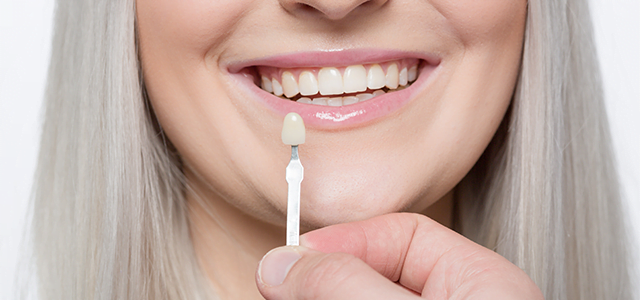 Dental veneers are an effective solution for improving the appearance or restoring the function of your teeth
If you have chipped, cracked, stained, or worn teeth, dental veneers are an ideal treatment to help rejuvenate the aesthetics of your smile.
First used in Hollywood during the 1930s to quickly improve the appearance of film stars, veneers have slowly become one of the most popular cosmetic treatments for patients wishing to improve the appearance of their 'smile zone' (front six, top and bottom teeth which are most visible when smiling).
Through its rapid growth in popularity, many myths have also been spread
As a procedure which is commonly thought to be reserved for celebrities, a number of myths have sprouted surrounding the treatment. We're here to debunk these myths and provide you with some valuable truths about this popular procedure.
Myth 1: Dental veneers don't look natural
It's very rare that you'll be able to detect when someone has received a porcelain veneer treatment. Veneers are custom made to fit perfectly over the existing tooth, conforming in both size and shape of the original. The porcelain is also colour matched to the patient's existing teeth in order to give a consistent colour tone among all the teeth.
Porcelain veneers are also able to mimic the translucent qualities of the enamel and dentin in your natural teeth, reacting to different light conditions.
Myth 2: Dental veneers are fragile
There are two different types of dental veneers; porcelain and composite. Both have their own unique qualities and are extremely durable. Porcelain, being the most durable option, can be as strong as your tooth's natural enamel. Veneers are designed specifically to act just like your natural teeth, with the added benefit of being resistant to staining and colour changing.
Myth 3: They're only for aesthetic purposes
Whilst the primary purpose of veneers is to improve the appearance, veneers are also an extremely effective solution for repairing and restoring teeth which are cracked, chipped or misshaped. Often teeth are not decayed or damaged to the point where they require treatment such as a crown; in which case, veneers provide a great solution.
Myth 4: Application is painful
Dental veneer treatment will be conducted under a local anaesthetic and patients should not experience any pain or discomfort.
Dental veneers at Dental Pearls, Brisbane
The experienced team at Dental Pearls, Brisbane CBD strive to provide patients with the best veneer treatments possible. Further to this, we ensure results are as natural as possible.
If you're considering either composite or porcelain veneer treatment in Brisbane, contact us today to ask any questions!
Don't forget to share this via Twitter, Google+, Pinterest and LinkedIn.