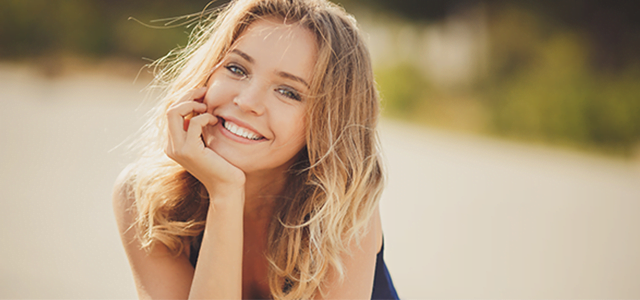 Over time, teeth naturally lose their whiteness and everyday life will leave its mark on our smiles in the form of chips and cracks. Luckily, with modern dentistry, we can transform your smile and bring it back to its former glory or completely renew it.
A brighter smile can improve your appearance and at Dental Pearls, we have the options for you to bring back that glow to your pearly whites. We offer veneers for those who want to give their smile a complete makeover and different teeth whitening methods to remove stains and discolouration. These include in-chair whitening treatments applied by our dental professional in our practice, as well as take-home treatments that are supplied by your dentist.
Teeth whitening at home or in our practice
Certain foods and drinks, including coffee, wine and sauce, all take their toll on the colour of your teeth and will lead to some discolouration. Teeth whitening is one of the best options to lift your smile; it is quick, non-invasive and extremely effective.
At Dental Pearls, we offer different treatment options to be able to provide you with the option that suits you best. Our take-home teeth whitening kits let you perform the treatment in the comfort of your own home and at your own convenience.
While at-home teeth whitening is convenient, it does take some time before it achieves optimal results. If you prefer instant results, we offer Zoom teeth whitening in our practice. With the Zoom technique and its use of an active ingredient containing hydrogen peroxide, we can provide a natural looking and radiant smile in an hour. That means you could completely make over your smile on your lunch break!
A complete smile transformation
Porcelain veneers can improve the colour, shape and overall appearance of your smile. They are designed to enhance individual teeth for improved symmetry and an overall more beautiful smile.
If you have several concerns such as chips and discolouration, veneers may be the best solution for you. Our veneers are made of either porcelain or composite material and act as a shell encasing your affected teeth. This means they will cover up any stains, cracks or crookedness that you are not happy with. They give you an instant improvement with a natural looking white, straight and beautiful smile.
Cosmetic Dentistry with Dental Pearls
Show off your personality with a beautiful smile. With our options, we will be able to tailor the best course of treatment for you.
To find out whether cosmetic dentistry is right for you, arrange a consultation with us today.
Don't forget to share this via Twitter, Google+, Pinterest and LinkedIn.